Working at Heights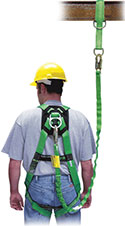 Objective:
Working at heights safe work procedures including use of fall protection systems.
This six and a half hour program is based on the requirements of the new MOL training program standard. This full day program is divided into two sessions, a three-hour basic theory session and a three and a half hour working at heights practical equipment session. Each participant must score a 75% score to pass and receive a training card.
Wear comfortable clothing you can move freely in. You must wear safety boots. Bring a lunch and pen or pencil. Parking is available.
Participants will learn:
The roles and responsibilities of the employer, constructor, supplier, supervisor and worker.
Regulations that address fall hazards, fall protection equipment and working at heights.
Working at heights hazards and the hierarchy of controls to protect workers.
The distinctions between and use of travel restraint, fall restricting and fall arrest system.
The setup, use, maintenance and storage of travel restraint.
Suspension trauma on the body once the fall arrest system has been initiated.
Participants get a hands-on demonstration of fall protection equipment and systems.
Set up and use of rope grabs for both fall arrest and ladder use.
Key components of a fall rescue plan and emergency procedures.
Note: this is not a complete list of topics for the program.
Cancellation Policy:
At least 24 hours notice is needed to cancel and receive a credit for funds paid. No refunds are available, only credits. If you must cancel with less than 24 hours notice, you will not receive any credit for funds paid.
Date:
Monday, November 21, 2016
-
Thursday, November 24, 2016
We apologize but this course is filled.