Samantha Armstrong (Script Member) invites you to see the trailer for her documentary The Inkerman Rockets now on sale!
Return to listing
Samantha Armstrong (Script Member) has devoted the last several years working on the documentary The Inkerman Rockets. This project was important to her and in her words "My father played for the team for 5 years and it was a story that I grew up with. There aren't many of the players left living and I didn't want the story to die with them. So I have made this film for my father and the other Rockets and so that their remarkable story will live on."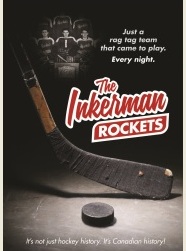 Please check out her website: www.inkermanrockets.com to view the trailer, copies of the dvd are also available for purchase there..
Short Synopsis - The Inkerman Rockets Documentary is the story of a 1940's & 50's rag tag group of farm boys who went from playing shinny on the river in the centre of their small eastern Ontario town to facing off against Jean Beliveau and the Quebec Citadels in the semi-finals of the Memorial Cup playoffs. The team was formed by their mild-mannered school teacher and coach Lloyd LaPorte, who treated his players with kindness and respect and in response they beat teams they never should have beaten. The Rockets are recognized in the Hockey Hall of Fame in Toronto. Notable Rockets include Leo Boivin (NHL), Floyd Smith (NHL) and narrator Brian McFarlane (Hockey Night in Canada commentator). Also appearing: Dickie Moore (NHL) and Don Cherry.